The Joy of Reading
0%100%
---
One of the greatest difficulties poor children in Kenya face at school is lack of books. In public schools a classroom of 70 children can be working from only one or two text books. Children rely on notes they copy from the blackboard. At home, they can't do their homework or extra studies without textbooks. Poor parents can't afford text books and so can't build a culture of reading and study for their children.
Elimu is fundraising to obtain more digital reading materials for it's study and reading program. A set of 35 eReaders preloaded with Kenyan school curriculum will be used to put the power of reading into the hands of our students. One eReader will carry a minimum of 200 ebooks giving students access to a variety of useful text books and story books for their personal study program.
Help us purchase eReaders for our study and reading program. Paper text books are a challenge for us because they are heavy and costly. We now have an opportunity to benefit from a program that provides 200 ebooks specific to Kenyan school curriculum. And, additional ebooks at only $1.30 each.

This Project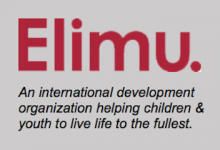 Project Facts

Lives Affected
CountryKenya

Map and Location

Contact Info

Chairperson

George Brown

Secretary

Treasurer

Maureen Monaghan

Founder and President

Strategic Communications Advisor

Suzanne Stoltz

Education Advisor

Tom Craven

Special Advisor

Jane Bennett