Celebrating Clean Water
---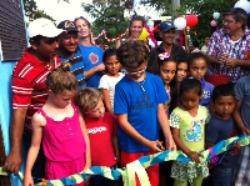 Posted by Alison on Feb 06, 2014
A new water well in northern Nicaragua will change the lives of 800 residents living in the community of El Tanque.
The Change for Children delegation was on hand for the official ribbon-cutting to inaugurate the well. The well, recently drilled as part of the Nicaragua Water Project, was funded with the proceeds of the Joffrey Lupul Charity Golf Tournament, held annually in partnership with the North Saskatchewan Riverkeeper. Thank you donors, sponsors, and golfers!
The delegation also witnessed the drilling of a well in the community of San Marcos II, funded by CFCA School Champions, St. Teresa Elementary School.
---
Comments
No Comments
---
Blog Archive
Filter
Useful Links
How to use the Blog
This Project
Project Facts

Lives Affected1,000
Total Cost$ 10,000
Amount Raised To Date$ 0
Percent Complete0 %
CountryNicaragua

1

Map and Location

15

Related Student Work