Recognizing World Food Day
---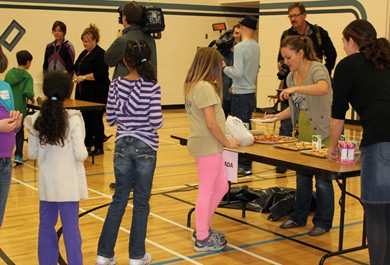 Posted by Alison on Oct 19, 2013
Elementary students from St. Vincent Elementary School celebrated World Food Day on October 16th by learning about global food security issues with hands –on activities aptly dubbed the Hunger Games. The relay race included a trip to 'the market' and the completion of a physical 'climate change challenge'.
Students were divided into six countries (Uganda, Nicaragua, Honduras, Guatemala, Bolivia, and Canada) and were issued currency based on each country's respective typical daily income. Students were tasked with buying coloured jelly beans, representing the four food groups, in an effort to meet daily dietary needs. It quickly became obvious that students representing Canada came away with a full bag and a full spectrum of jelly bean colours, while those from other countries could only afford to buy one or two.
"It's not fair that Canada got $20 and a 2-minute head start!"
"I didn't have enough money to buy a chicken!"
The Hunger Games wrapped up with a Hunger Lunch which provided the students with a lunch from Nicaragua, Uganda, or Canada, emphasizing the disparity that exists in the world. Students representing Canada were delighted to receive pizza, an apple, and juice; students representing Nicaragua shrugged at the small plate of rice they were offered and declared they were still hungry; and jaws dropped as students representing Uganda were left looking into an empty box.
"I feel sad. I'm hungry. Imagine if this was our life every day."
"Without enough food, my family would be unhealthy and wouldn't grow properly."
The aim of the Hunger Games is to challenge students to learn about and compare food supply and resources in Canada and the Global South. The message resonated through the St. Vincent gym in the disbelieving faces, the declarations of unfairness, and the expressions of empathy that lingered even after the students were dismissed.
---
Comments
No Comments
---
Blog Archive
Filter
Useful Links
How to use the Blog
This Project
Project Facts

Lives Affected10,000
Total Cost$ 10,000
Amount Raised To Date$ 0
Percent Complete0 %
CountryBolivia

1

Map and Location

15

Related Student Work