Dental Brigade Feeds displaced families in flood-stricken Bolivia
---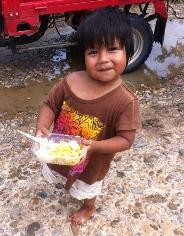 Posted by Alison on Mar 05, 2014
Dental brigade feeds displaced families in flood-stricken Bolivia
Extensive flooding in and around Rurrenabaque, Bolivia, has buried homes and crops, and displaced hundreds of people.The indigenous communities with which we partner for the Bolivia Better Nutrition, Better Learning project have been cut off by floodwaters and washed out roads.
The Kindness in Action/Change for Children Canadian dental brigade currently on the ground in Rurrenabaque has been unable to travel to the intended sites of the mobile dental clinics due to heavy rains, flooding and landslides.
This, however, has not deterred the adaptable team who has banded together to contribute in another meaningful way. The group made 200 portions of food which they distributed to families who are camped out in the streets, displaced from flooded homes.
"We are happy to be able to help out even in this little way. We were able to purchase and then prepare enough food to feed over 200 displaced flood victims. Our hearts are breaking for the people who have so little and have lost even that. It was so nice to meet these polite and thankful people."
-Marlene Morrow
Weather can be unpredictable and even the best laid plans sometimes cannot compete. It is nice to know that this team of Canadians can be counted on to not only adapt, but to unite — to plan, to coordinate, and to implement a pretty incredible Plan B.
The Better Nutrition, Better Learning project combines training in agriculture and enterprise development to help women produce more food (improved food security), create nutritious & marketable food products and then sell them to the school feeding program (improved income security) ensuring children are well nourished (improved child health) and thus able to learn (improved education).
---
Comments
No Comments
---
Blog Archive
Filter
Useful Links
How to use the Blog
This Project
Project Facts

Lives Affected10,000
Total Cost$ 10,000
Amount Raised To Date$ 0
Percent Complete0 %
CountryBolivia

1

Map and Location

15

Related Student Work