Nyumbani Kwetu Home for Children
0%100%
---
Today Nyumbani Kwetu provides education and housing for a family of children, all related through one grandmother. They live in a comfortable rented house. All living expenses, medical care, child care and schooling is handled by Elimu.
Full Project Summary

Before, Elimu these children were regularly undernourished; today they get a good daily portion of healthy local fare. Before Elimu schooling was irregular and poor quality; today they are in a variety of good quality private and public schools with the additional support of teachers who provide tutoring and mentoring. Before chronic health issues plagued some of the children; today regular medical care and proper hygiene are keeping these kids healthy and active.

Information for Educators

We seek ongoing support for the education of the children and upkeep of the home.
Our goal is to raise enough money for the school fees and stationary for two students ($900 x 2 = $1800 plus $50 x 2 = $100 Total $1900)

High school (boarding) fees per child start at $900 per year.
Stationary & textbook for 14 children - $700 per year; or $50 per child.
Primary school fees per child start at $300 per year.
A supply of bathing soap for a year is around $130.
One year supply of toothpaste costs $40.
One school uniform costs $25.
One pair of socks for school for one child is less than $2.

This Project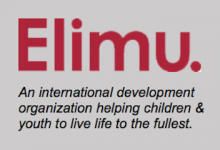 Project Facts

Lives Affected16
Total Cost$ 1,900
Amount Raised To Date$ 0
Percent Complete0 %
CountryKenya

1

Map and Location

Contact Info

Chairperson

George Brown

Secretary

Treasurer

Maureen Monaghan

Founder and President

Strategic Communications Advisor

Suzanne Stoltz

Education Advisor

Tom Craven

Special Advisor

Jane Bennett