Onomatopoiea - Nakoda Elementary School
These grade 1 students need to slow things down in their modern and hectic lives so they do not forget their heritage. This performance excerpt is from the show Finding The Balance that was performed by the students of Nakoda Elementary School in Morley, Alberta.
---
IssueFirst Nations
School
RegionNorth America
Grade1-3
---
Explore: First Nations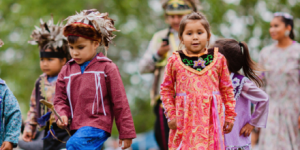 First Nations
The first inhabitants of Canada. First Nations people have lived...
Find More Videos