Kids Go Global - Elizabeth Barrett School - First Nations: Dream of the Nations
A clip form the November 28th performance at Elizabeth Barrett Elementary School by Mrs. Sambrook's grade 4 classes. This piece is called "First Nations: Dream of Nations".
---
IssueFirst Nations
School
RegionNorth America
Grade4-6
---
Explore: First Nations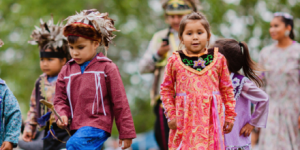 First Nations
The first inhabitants of Canada. First Nations people have lived...
Find More Videos