Halloween for Habitat beyond a huge success!
McKenzie Towne School's Habitat for Humanity Fundraiser
---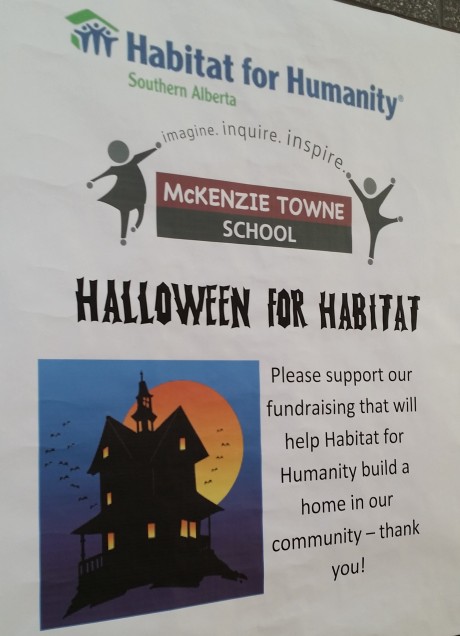 Posted by Heather on Nov 14, 2014
Through our Halloween for Habitat campaign and support from the community the students raised $3826.85. We are extremely proud of our students and community for helping us achieve this. Our ripple seems to be growing!
This year, McKenzie Towne School students volunteered to take out collection boxes when they went trick-or-treating to help collect change for Habitat for Humanity. This was incredibly successful and we are grateful to all of those students and volunteers who helped to make this project a success.
A special thank you to Kelly Furaya for making our Halloween for Habitat posters and labels for the milk cartons, to tall the parents and grandparents who made the collection boxes and our Lunchroom staff for collecting and cleaning out the milk cartons for us to use!
---
Comments
No Comments
---
Blog Archive
2017

2016

2015

2014

2013

2012

2011
Filter
Useful Links
How to use the Blog
3

School Based Projects

15

Gallery of Student Work

1

Blogs

Staff Contact Info

Ashlee Young

Beth Edey

Bobbi Kivi

Diana Hamilton

Gillian Webber

Heather Bourgeois

Heather Prangnell

Janet Purdy

Jeanette Phelan

Jeanine Lewis

Jen Hull

Jennifer Larmer

Joan Klym

Karmen Kruger

Kelsey Shillington

Kendra Robertson

Leah Assmus

Lori Morris

Merideth Steeves

Monica Adiwibawa

Nicole Barr

Ryan Klasen

Sonja Girard

Sophie Chen

Stacey Greenberg

Tereza Storrier
---