Elimu
Donate!
Lives Affected
0
Amount Raised
0
---
Elimu is the official trade name of Elimu Development Projects, a registered Canadian charity assisting children through education. We are based in Ottawa, Canada and our Canadian operations are currently completely volunteer-run. All those involved in management, administration and fundraising volunteer their time and expertise.
Videos
NGO Help Files
How to manage NGO Projects

Help files on managing NGO resources on Kids Go Global can be found here.

Can't find what you're looking for? Please contact us by phone at (403) 288-9393 and we'll be happy to help.
Our NGO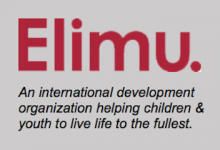 4

Projects

Map and Locations

1

Blogs

Contact Info

Chairperson

George Brown

Secretary

Treasurer

Maureen Monaghan

Founder and President

Strategic Communications Advisor

Suzanne Stoltz

Education Advisor

Tom Craven

Special Advisor

Jane Bennett