July Program Update Gindo
Canadian Humanitarian
---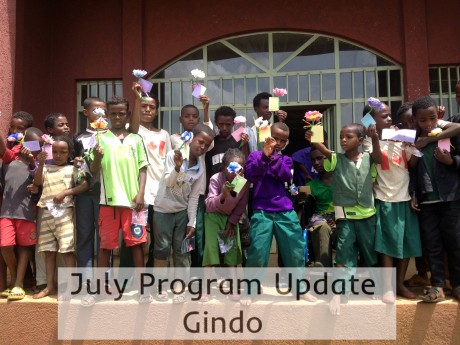 Posted by Rachel on Jul 27, 2014
Students at our Gindo Center have been the recipients of many visitors in the first half of 2014. We had twenty (20) volunteers in February and others as they have been able to travel the roads during rainy season. Each group brought special life skills, and spent time playing, visiting student homes, getting to know these students better.
Thanks to generous donations of volunteers, Abate from the Gindo Center was able to have a wheelchair specially measured and made for him. With the chair, came a tutoring course, and specialized tools so he can repair and care for this chair on his own. Abate will graduate this year from the center, as he is now 19 years old. Center staff have been working with him to learn a skill so he can run his own little business. Being off the ground, and mobile are HUGE improvements for his life. THANK YOU to the Gindo Center staff and volunteers who have made this dream come true for Abate. Equal with the others!
Personal grooming kits were given to each student as part of the February expedition group. Students, and staff happily accepted new socks, underwear, t-shirt, candy, and a toothbrush.
In the fall of 2013, Methanex sponsored a Global Awareness challenge with a high school in Medicine Hat. Challenging the students to come up with a solution to a need in Gindo that could be helped with a budget of $1000. The outcome of this challenge was a solar powered light project, that is now providing light to 10 families in the Gindo area. The students had a fun time in February creating thank you banners for both Methanex and the participating students.
The May group helped the students to make special gift flowers out of tissue paper, to give to someone in their life who is a Mother-figure to them. The students loved this special activity. For many, a staff member of their education center was their Mother figure. The children also wrote a small note to their mother and made little 3 dimensional pictures to finish their gift. These gifts were beautiful, and the students were excited to make them.
Each expedition group takes some time to visit the student's families. This honors them, and acknowledges their important role in supporting the student in their efforts to attend school fulltime, and to attend the Education Center after school. Throughout the past 6 months, we have visited several of the families of students in the Gindo Center.
---
Blog Archive
2017

2016

2015

2014

2013

2012

2011
Filter
Useful Links
How to use the Blog
Our NGO

3

Projects

Map and Locations

2

Blogs

Contact Info

Program Development Coordinator
---