Putting Children First in Syria
Canadian Catholic Organization for Development and
---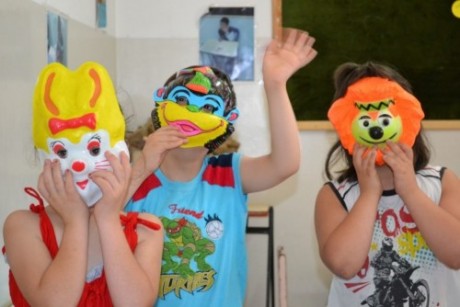 Posted by Kids Go Global on Dec 29, 2015
Development and Peace are supporting a children's centre open to children and parents of all faiths. The environment is helping to support children with disabilities and provide a place for parents to connect with one another in a safe environment.
Children form one of the most vulnerable groups in times of war - and children with special needs even more so. When there is conflict, social services break down and families struggle to meet their basic needs. As people flee, the social fabric begins to fall apart and people lose the community support that helped them overcome the challenges they face.
The city of Homs has been one the most affected by the war in Syria. With bombs falling, a local day centre for children with special needs run by the Sisters of Sacred Heart was forced to close its doors in 2011. In fact, not long after the centre closed, the building that housed it was destroyed by bombings. Despite the security threats surrounding them, the sisters were determined to provide these much-needed services to the community and they managed to find funding to re-locate the centre to a safer neighbourhood.
At first, the centre welcomed only two children, but as one of the only organizations to continue to offer education and support to children with disabilities, it quickly grew to receiving close to 100 youth between 5 and 25 years of age on a daily basis.
Today, the sisters run four centres that are being supported by Development and Peace. They employ educators, psychologists, speech therapists and social workers, who provide a wide range of activities that help youth learn to express themselves, gain self-acceptance, become more autonomous and develop their talents and potential.
Parents are encouraged to participate in activities to learn about their child's disability and how to adapt. It creates an important community support network for them, and through this network, parents come into contact and exchange with others of different faiths and backgrounds, which contributes to creating an atmosphere of tolerance in the community.
"It is the only centre that continues to open its doors during a time that is not normal. It welcomes everyone from all regions because our mission is to serve all humanity, and each person is important in our centres," says Sr. Samira Jriej, Director of the centre.
"It is a symbol and a bridge towards peace and reconciliation for parents, because it brings everyone together and helps them to forget the other considerations around them that are far from humanity."
---
Blog Archive
2017

2016

2015

2014

2013

2012

2011
Filter
Useful Links
How to use the Blog
Our NGO

1

Projects

Map and Locations

1

Blogs

Contact Info

In-Canada Programs Person
---