A Mayan Victory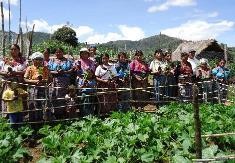 Sep 25, 2014 |
Change for Children
In June, Guatemala congress approved legislation that allowed Monsanto patented seeds to expand into Guatemala. The Mayan people, a community embracing diversity and coexistence, strongly opposed the certain end of natural seed diversity.
After protests, demonstrations, road blocks, and public outcry of all sorts, the legislation was repealed by congress on September 4th.
The law, widely opposed by indigenous farmers, would have made criminals of subsistence farmers growing crops for their own consumption if their natural seeds were inadvertently mixed with patented seeds (through wind or pollination) without a license for the patented seed.
The repeal was a victory for the Mayan people who believe in being stewards of the land and do not consider Earth, or the diverse and natural bounty it offers, as a commodity to be monopolized or exploited.
The imbalance between local producers and national corporations is a serious threat to independent farmers in Guatemala, Canada, and indeed the world. Please join us at the Development Dinner where journalist, Sarah Elton, will highlight the importance of protecting agricultural diversity and local food. Wherever local happens to be.
---
Comments
No Comments
---
Blog Archive
2017

2016

2015

2014

2013

2012

2011
Useful Links
Explore More Blogs
9

Categories

12

Issue

10

Region

4

Grade