Audio Visual Tutorials
Step: 1 - Creating the Story
In order to create strong and striking audio visual presentations you will first need a story to tell. Students will need to pick a theme, do some research, brainstorm story ideas and then write the stories that will be the outlines for the presentations. For example if the theme is "Homelessness" then the stories could be about the causes of homelessness, NGO's that help the homeless or people that are made homeless due to external factors like natural disasters and war. The more focused and fleshed out theses stories are now, the easier creating the rest of the presentation will be.
Step: 2 - Gathering/Creating Images
Once the story has been fleshed out it is time to start building the visual part of our presentations. In this tutorial you will only be using images but if your school has video capabilities you could also add in video clips of short performances, interviews, skits or any other material you might have or want to shoot.
Collecting images can be done in two ways:
1. The first way is to have the students explore there themes and stories by creating original art pieces. Paintings or drawings are a great way to have students really explore and connect with an issue. It also allows them to tell their own stories and express them with their own imagination. Any artwork that is created will need to be digitized is some manner. This can be done using a scanner or, in the absence of a scanner, a digital camera could be used to take pictures of the students work.
2. The second option is to find pictures on the internet that correspond with the students stories. Finding these images can be a daunting task if you don't know where to look but we have complied a few resources below that can be used to find all sorts of amazing photos. Due to copyright laws many of the images you find on the internet are not free to use, however the links below are all locations that have Creative Commons or Public Domain Licences. What this means for you is that if you find an image on any of these sites, you can use it in your projects.
Flickr Creative Commons | Google Images | MorgueFile Free Images | Archive.org | Stocksnap | Unsplash | Wikimedia Commons | Pixabay | Pond5 | Bing
Ideally these presentations will be around one to three minutes in length so you will want to find anywhere from 10 to 30 images. Once the images are found they will all need to be saved to the computer. Depending on the website you are using you will either have a link that will let you download the image or you will have to download them manually. To do this you will need to right-click on the image you want to download and select "Save Image As"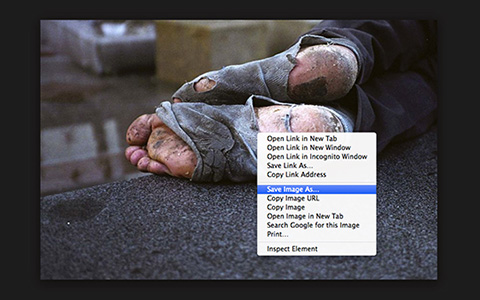 To make things easier you should create a new folder on the computer so you can keep all of your files in one place.
Image size is very important to keep an eye on. If the webpage you are using to collect your images has an option for size or a pormpt to dowload a large image definatly use it. The probelm with using small images is that iMovie will stretch the image to fit the presentation window and if the image is to small you will get a pixilated and fuzzy looking image. Below is an example of two images, one that is the right size and one that is far to small.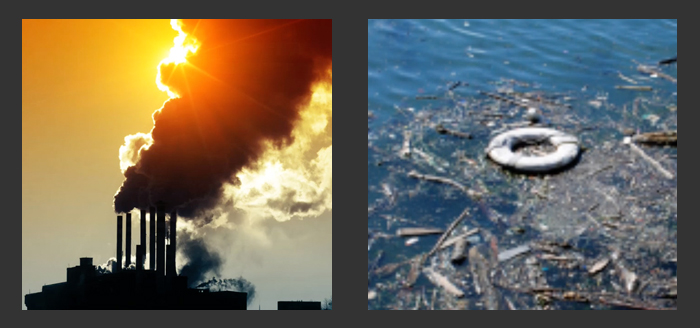 You can clearly see the difference between the two images. The image on the left is sharp and crisp and looks great where as the image on the right is all blurry and blocky and does not look very good at all. Since we are using iMovie to create a video file the minimum size for your images should be 1280px wide and 720px high.
Step 3 - Gathering/Creating Audio
Once you have collected your images you now want to add some audio to your presentation. For these presentations you will want two separate audio files. First you will need find an appropriate backing track, this will be a piece of music (preferably without vocals) that will play in the background during the entire presentation. It is best if the music matches the mood of the theme and the story being told. For example if the story is about animal cruelty and the visuals are of injured animals then upbeat and happy music would not be very appropriate as a backing track. It is important to find the right music as it will give the presentation a sense of cohesion and flow.
The second audio file is a voice-over track. The voice-over can be the students interviewing each other about the issues in their story, telling a narrative, explaining their artwork and/or choices of images, or simply talking factually about the issue. A computer with a microphone, a smart phone, a tablet, or a standalone sound recorder can all be used to record the students. What you want to do is use an application or program to record the students and then export either a .wav or .mp3 file that we can then use in iMovie. A quiet place is best when making your recordings so that there is not a lot of background noise in the final presentation.
If you are using a Mac computer you can use Garage Band to record and export your audio files. If you do not have garage band or any other audio recording software you can download and use Audacity. Audacity is a free open source audio editing program that is easy to use and would be perfect for this type of voice-over work. You can download Audacity for free at their website HERE!
Once you have your two audio tracks and have collected all of your images you are ready to create your iMovie presentation.
Step: 4 - Creating an iMovie Presentation
The steps to create an iMovie presentation can be viewed in the video below:
I have included a few student examples so that you can get an idea of what your final projects might look like. In these examples students played with different iMovie themes and some also added their own videos to there presentations but the general process is the same as explained in this tutorial.