FLEX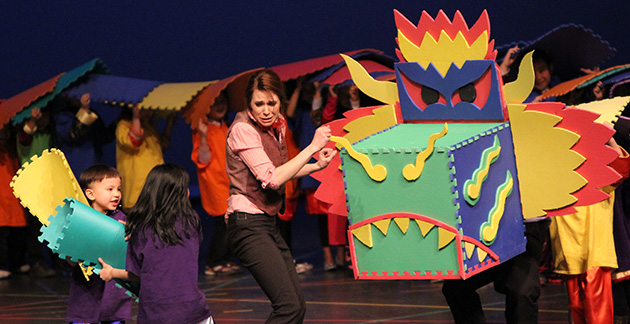 What is the FLEX program?
With the FLEX program schools will have the ability to book Trickster Theatre in blocks of 5 days throughout the school year. FLEX days do not have to be used for the same class or projects nor do they have to be used at the same time. These days are FLEXable, meaning that you have total control over how and when they are used. But what does that look like in practice?
If you have an upcoming event and want to create a few theatrical pieces to perform, instead of having a full residency your FLEX days could be used to bring in an artist to help develop these pieces. If you are interested in driving a fundraising campaign and adding an on-line component, then your FLEX days could be used to shoot a short video for YouTube.
Other options available to you through FLEX are:
Classroom support for Act2Learn and/or Kids Go Global
Helping create a Celebrations of Learning Assembly
PD Day Support
Helping with the creation of Digital Work
Theatre or Tech Workshops
Campaign Support
Carnival for Change/Festival Support
Create a Promotional YouTube Video
If your school has an idea which you think Trickster Theatre can help expand, then the FLEX program is designed to help. We are open to working with you in anyway we can.
FLEX Options

With the FLEX program we will do our best to support your school with any project you want to run however we know that sometime it is helpful to have a few options to get you started. Here are a number of options that are possibilities for your school.

Act2Learn/Kids Go Global Classroom Support

Act2Learn is a web resources that provides you with models designed to teach all sorts of learning objectives through the Trickster Theatre method. These models were designed to help you get your class to act out the science curriculum in fun and engaging ways.

Kids Go Global is another very popular web platform that focuses of Global Issues and learning through physical theatre. It also has a blog, allows school to connect with NGO projects, or start their own projects with a goal of creating real change in the world.

With the FELX program we could have a Trickster artist come into your school for a day and help you run through Act2Learn models or create short physical theatre pieces base on global issues that your class or school are learning about.

---

Celebration of Learning Assembly

Some of your FLEX days could be used bringing an artist into your school to help you in the creation of a Celebration of Learning Assembly. This artist would work with a small selection of classes to begin the creation of original physical theatre pieces, related to the topics they have been learning about in class. Our artist would provide you with the tools necessary to foster the growth of the piece, and then return for a second day during which they would finesse the work. Once the pieces are complete, our artist will be happy to design and run basic technical components, such as music and sound effects, for the pieces during an Assembly at which the pieces would be showcased to the remainder of the student body as a means of demonstrating learning.

---

PD Day Workshop Support

Trickster Theatre has worked in schools for 35 years; in that time we have developed what we believe to be a fantastic method of teaching children, which both engages them and allows them to get out of their desks and learn kinesthetically. Using physical vocabulary and movement patterns to help students act out lesson plans in the corner stone of what has made Trickster a success. We believe that with the right tools and a little training, any teacher has the ability to use the Trickster process in their classroom, and to cover a myriad of topics. In order to assist your teachers in gaining the skills and confidence they need, use some of your FLEX time to bring a Trickster artist in during a Professional Development day to teach a workshop on our process. During this workshop our artist will work with your teachers to show them all the tools they would need to use the Trickster process in their classroom every single day.

---

Creation of Digital Work

Digital storytelling is an incredible platform for sharing ideas and helping expand social awareness of an issue. However, the creation of digital work - be it short videos, documentaries, interviews, slideshows, blogs, or podcasts - can be a daunting task. We want to help make this process easier, and to encourage you and your students to use our digital platforms on Kids Go Global to tell their stories and push their projects and ideas to a wider audience. Trickster Theatre has several artists that specialize in the creation of audio/visual work, and are well versed in the programs and technology required for this type of creation. With your FLEX program, you could bring an artist into your school to run workshops with your students, aiding them in creating their own digital work in support of classroom explorations. You could also use FLEX time to run workshops for your staff during which our artists will provide ideas for projects and tutorials on specific digital creation software - i.e. iMovie, iPhoto, Garage Band, etc. We are excited to help you and your students further by showing you how to host this work on our Kids Go Global platform for the world to see. By allowing your students to have their voices heard about issues they are passionate about, you will encourage them to continue being socially active and learning about the world around them!

---

Theatre or Tech Workshops

Over our many years of experience, Trickster has come to recognize the truth of the adage, 'we learn best by doing', and we love to put this into practice by having students act out classroom topics. However, if you have never done this before, or aren't comfortable with the idea of acting, this can seem like a daunting task. Use some of your FLEX days to bring in a Trickster artist to help teach you the classroom process we use, and how this can be utilized to help teach your students all kinds of exciting topics. Or, if you already know the process, bring an artist in to help you become more comfortable with it and expand the ways in which you are using it!

During our theatre creation process, Trickster uses a variety of technical components to enhance the final pieces; primarily through the use of music and sound effects. Use some of your FLEX time to bring in a Trickster artist to show you the programs we use and how to utilize them to their best effect. This will allow you to support the pieces you and your students create together with a little more of the 'magic of theatre'.

---

Campaign Support

One of the main goals in the creation of Kid Go Global was the desire to build connections between schools and NGO's (Non-Government Organizations), in order for them to help students make real change in the world through the development and running of campaigns. With this goal in mind, we want to help your school create and manage campaigns of all sizes, in support of various issues that your students are passionate about. Over the course of the 2014/15 Season, Trickster has helped schools raise between $250 and $10 000 for a number of different charities and NGO's. By using our FLEX program in support of your campaigns, you will receive assistance from Trickster in a wide variety of ways: connecting you with Kids Go Global's partner NGO's which are related to the issue your campaign supports; developing project pages on the Kids Go Global web platform; create blog pages, and train your staff and students on how to use them; push your campaigns on Trickster Theatre and Kids Go Global social media, including Facebook, Twitter, and Vimeo; schedule NGO speakers to come in and talk to your students about the issues they are supporting; and help you facilitate online donations through a Canada Helps fundraising page. We are committed to helping your students 'Be the Change' from the inception of their idea through it its completion.

---

Carnival for Change/Festival Support

A carnival is a great way to support a single school-wide campaign or any number of smaller seperate campaigns. So whatever your school is looking to support, a carnival can help hit your goals. Tickets can be sold to raise funds and each class can create their own carnival games.

Trickster Theatre can help by bringing in artists to help craft the games to better represent the campaigns you are wanting to support or run a workshop to teach your students the art of the Carnival barker. Also we have artists that are accomplished stilt walkers who will come for the day of your carnival and interact with your student to really bring the feel of the carnival to your school.

---

Create a Promotional YouTube Video

If you are running a fundraiser or event at you school, we can help expand on your idea and push it online. We have artists that will happily come into your school and work alongside your students to create and direct a short video to support a project. Once the video shoot is wrapped our videographer will take the footage, professionally edit the footage, uploaded the finished video to YouTube, push your video on all of Trickster Theatre's social meida outlets and finally set up a Canada Helps page that is linked to from the video to help collect online donations.

This past season Trickster Theatre got to work with North Haven School to create a short video to support Jumpstart and a 5 school floor hockey tournament they were hosting. The video was shot on a Wednesday and by Friday it was up on You Tube and being pushed on social media, and driving people to their Canada Helps fundraising page. Because of this online presence North Haven was able to raise an additional $2000 for Jumpstart.

You can see North Haven's One Goal a Thousand Assists video HERE!

---

What FLEX Schools are Doing

This year a number of schools have used the FLEX program to enhance their projects with the help of Trickster Theatre. As you will see from the following examples, the FLEX program can be used to achieve all sorts of amazing things.

Trickster Theatre 2014/2015 Season

North Haven School

FLEX - 2014/2015 - North Haven School - Carnival for Change

FLEX - 2014/2015 - North Haven School Hockey Tournament

---

McKenzie Towne School

FLEX - 2014/2015 - McKenzie Towne School - Creation of Digital Work

---

Capitol Hill School

Valley Creek School

Booking FLEX

The FLEX program can be booked in increments of 5 days at a time (Remember these days can be used separately and at any time throughout the school year). The scope of your ideas or the number of classes/projects you want to have in the FLEX program will determine the number of days you will need. Please keep this in mind when booking your FLEX program.

Funding for the FLEX program can be included in an AFA application if you are applying for a full Trickster residency this year. Please note that all FLEX days funded in this way must be used within 3 months of your residency week.

If you have questions about the FLEX program please contact us at (403) 288-9393 or email david@trickstertheatre.com

To apply for a FLEX program for your school please Click Here!
---
School Projects
---

N/a'an ku se Foundation

We love what they do at N /a'an ku se. We have been connecting to them using Skype. We've been talking to the people who look after the animals. There is so much to learn about what they d...

Braeside School

---

Valley Creek School Trickster Theatre Residency

With the aid of the Trickster artists, the school will explore the themes of water conservation and how we are contributing to a global water shortage. In addition, their focus will be on what i...

Valley Creek School

---

Global Learning Through the Arts

Noble Central School is a K-12 school serving approximately 100 students located in the village of Nobleford, AB. The village is known for being the home of the "Noble Blade", a plow that is able ...

Noble Central School

---

Water for All

We are part of a kidsVEST pilot project where we start our own microbusinesses to support a cause.

Prince of Wales School

---

Water Works

We are selling water-awareness stickers that get the students free refills of the drink of the month every Wednesday in the months of March, April and May. Each month has a different edition of ...

St. Joseph School
NGO Projects
---

Shave Your Lid for a Kid

Shave Your Lid for a Kid® is Kids Cancer Care's largest fundraising initiative, raising more than $9 million since its inception in 1998. Our shave program is successful because of you. Each ye...

Kids Cancer Care

---

Uganda - Healthy Mothers, Healthy Communities

Since 2008, Change for Children has been working in the south-western region of Kigezi, Uganda with the Kigezi Healthcare Foundation (KIHEFO) to improve nutrition through agricultural diversification ...

Change for Children

---

Porridge Feeding Program

In the rural village of Kaynamira, Uganda the people are very poor. They typically earn around $1 a day and grow basic food like sweet potatoes and corn using hand tools. In the Kaynamira Primary Scho...

Change for Children

---

Sponsor a Biosand Filter Student

CAWST is pleased to announce a new initiative with a goal of teaching locals how to build their own biosand filters, bringing clean water and better health to communities world wide.

CAWST

---

Provide Medical Support for HIV/AIDS Orphans

Most orphaned children who attend our school live in terrible poverty and dirty conditions. Very few have access to regular medical support, vaccinations, first aid, or other medical check-ups. They f...

One Child's Village
Learn about the Issues